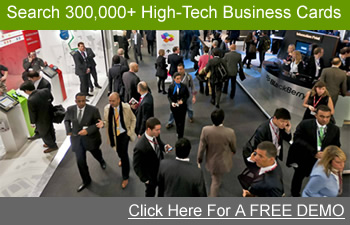 We are excited to have partnered with CardBrowser to bring you quality, current and high-level names to add to your 'prospect' database.
We have used CardBrowser for our own sales & marketing purposes and THEY WORK!
What is CardBrowser?
CardBrowser has been featured as a leading online contact service in The New York Times, Newsday, Selling Power Magazine, and numerous other business, technology, and recruiting industry publications.
CardBrowser is a service of PeopleComm, Inc., a tech industry research company founded in 1999.
---
CardBrowser 6 Month "Full Access" Subscription @ $3,495 USD
Search all 350,000+ business card records online now, plus thousands of new cards every month
Search business cards by market sector or industry vertical, tradeshow, title, company, or location
View business cards online. View sample business card record
Download any search to Excel, unlimited downloads
Mass import CardBrowser business card records from Excel to your Outlook, Salesforce.com, ACT, Goldmine, other CRM, e-Marketing, candidate, applicant tracking and other databases
Multiple user access (up to 5 users) - call us for enterprise unlimited user access pricing
5

FREE

eTraining subscriptions for 1-year ($1245 value)
---
CardBrowser 6 Month "Search & View" Subscription @ $1,995 USD
Search all 350,000+ business card records online now, plus thousands of new cards every month
Search business cards by market sector or industry vertical, tradeshow, title, company, or location
View business cards online. View sample business card record
Cut-and-paste contact info one-at-a-time to Excel or your CRM (no mass download-to-excel)
Multiple user access (up to 5 users) - call us for enterprise unlimited user access pricing
2

FREE

eTraining subscriptions for 1-year ($498 value)
---
CardBrowser 6 Month "Select" Subscription @ $995 USD
Select any 20 trade shows from the CardBrowser database
Search and View business cards online. View sample business card record
Download your trade shows to Excel
Mass import CardBrowser business card records from Excel to your Outlook, Salesforce.com, ACT, Goldmine, other CRM, e-Marketing, candidate, applicant tracking and other databases
Multiple user access (up to 5 users) - call us for enterprise unlimited user access pricing
1

FREE

eTraining for 1-year ($249 value)
---
Please complete the form below and we will immediately direct you to a FREE demo. We will contact you to answer any questions you may have.   If you have any problem filling out this form, then send email to
eric@salestrainingcentral.com