March 2012
| Click links (>>) below to read articles
The 3 Steps To Coaching Reps
by Eric Slife
Although I love my job, I am most passionate about coaching soccer. In fact, if you speak to me for more than five minutes, at some point I will probably figure out a way to bring soccer into the conversation.
During more than 10 years of coaching boys and girls at both the recreational and club level, I have learned that the development cycle of a good soccer player is no different than the development cycle of a good sales person.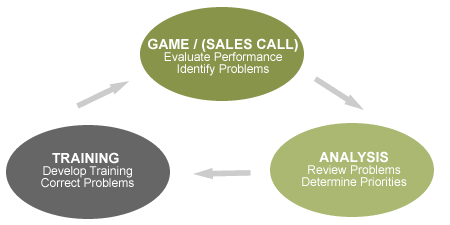 GAME / SALES CALL
There is no substitute for an actual competitive game or sales call to evaluate the strengths and weaknesses of a player or salesperson. Unfortunately, too many sales managers make two mistakes.
The first mistake is not consistently going with their salespeople on joint sales calls. You can't expect what you don't inspect. In other words, you can't possibly identify each team members' problem areas without observing them first hand in the field (or on the phone). Not only that, you can't possibly determine if the sales training you're implementing is being carried out in the field.
The other common mistake is taking over the call – I'm guilty of this. I struggle when I observe mistakes taking place to constantly yell out instructions. However, if you do the call for salesperson, they become reliant upon you. In addition, you will have lost the opportunity to assess their performance. You may lose a sale or two, but in the long run, you'll have a salesperson that you can be confident will know what to do especially when you're not present.
*Quick Tip: One of the best ways to prevent you from taking over a call is to bring with you an evaluation worksheet. You'll be more preoccupied with the evaluation, and less with winning the sale. By the way, if you coach a soccer team and struggle with over- coaching always bring a chair and try not to get up from it.

ANALYSIS
After you observe your salesperson's performance, the next step is to conduct an analysis. The first part is to review the problems with your salesperson. Don't make the mistake of trying to change everything all at once, but identify no more than three areas that need improvement.
You should conduct this review immediately after the call while it is still fresh. Start by asking your salesperson, "How do you feel the call went?" You can then follow up with, "Why, or why not?" After they provide you their assessment, you can then share your observations. You may very well find out, they are already aware of their problems.
After the review, determine the three biggest priorities that need to be addressed. Not only are identifying more than three problem areas disheartening, but it's also not realistic to try to change everything overnight.
TRAINING
You've observed your salesperson in action, you've analyzed their performance, and now you need to correct the negatives and reinforce the positives. This is best done in a risk free, less stress environment.
Whether it's in a sales meeting or in a one on one coaching session, take the priorities that you identified, and develop a training curriculum that addresses these issues. The session should first identify what a positive outcome would look like, and the steps necessary to achieve this outcome. This might be in the form of a role playing session.
Once you have completed each step in the developmental cycle, you need to repeat it, in order to effectively develop each team member. As a sales manager, one of your primary jobs is to continually develop each salesperson regardless of their experience level. When you fail to do this, you can't fault your salespeople for falling short of their sales goals. 
About The Author: Eric Slife is president of Slife Sales Training, Inc. They specialize in providing a comprehensive online sales training program that can be customized to fit a businesses sales team's specific needs regardless of size. Visit their website www.salestrainingcentral.com.
Sales Prospecting — if you think it's something you can do once a year with the same attention you pay to organizing your garage or closet, forget it! Sales prospecting is like taking a shower. You better be doing it daily.
Keeping your pipeline of prospects full is no easy task. I'm not going to suggest it is. I talk to salespeople all the time and most say that prospecting is their number one source of new business. So if you are like most salespeople, one of your hardest tasks is simultaneously one of your most necessary – keeping your pipeline full. There's no way to slide into loads of profit without some effort – serious effort – on the front end.
To use an analogy, let's think of the athletes. Professional and Olympic athletes train for years for the shot to achieve national and/or international success. For some athletes, their competitions last mere minutes. Even for baseball, football, hockey, soccer and basketball players, their pinnacle moments may take place in games that last only a few hours. What does it take to achieve at such a high level? A tremendous amount of effort on the front end. We don't see the countless hours spent training, preparing, avoiding injury, healing from injury, finding the right coaches, acquiring the right equipment, managing time schedules, and juggling personal lives.
From a sales perspective, closing the sale is the "big event" – that's where the money starts flowing. But getting to that event takes a lot of effort and adjusting along the way.
From a prospecting standpoint, consider these questions:
What are the obstacles you're facing in growing your business?
If you can't identify specific obstacles, you can't begin to find ways to overcome those obstacles. Put it down on paper what is standing between you and more customers.
What percentage of new business comes to you because of referrals from your customers or your network?
Interestingly, some salespeople wait for their customers to give them referrals. It's like waiting for your friends to suggest a good restaurant instead of proactively asking your friends for restaurant recommendations. Start today to make it part of your follow-up process with current customers to ask them for the name of at least one contact or company that may appreciate you as a resource.
Referrals happen when you provide a superior customer experience. Networking is all about developing as many relationships as possible. To refine your networking and referral process even more, find ways to develop relationships with people who are in a position of influence.
What would happen to your business if you could expand your pipeline by 50%?
Now is the time to start dreaming big, because the more you visualize what business growth could mean for your company and you personally, the more motivated you will become. Start getting specific. Start listing ways that increased profit will benefit your company and you. Then let this motivation carry you to the next step – expanding your list of potential prospects.
What's the best new idea you've come up with in the past year for your business or sales process?
Write down one idea you developed and the positive impact it had once you implemented it. Then start coming up with more ideas to refine your sales process. You may wonder what this has to do with prospecting. The more you can see that ideas – big and small – significantly improve your sales process, the more momentum you gain in wanting to improve and wanting to prospect.
Creating Confidence in Others
Sales is all about conveying a sense of confidence in others. Prospects become customers when they believe in the product, service and/or salesperson. Without a level of confidence, there is no sale.
Prospecting can be hard, but the payoff is worth it. Grow your pipeline with the same focus as a committed athlete trains. In the end, the "gold" is worth it.
Mark Hunter, The Sales Hunter, is author of "High-Profit Selling: Win the Sale Without Compromising on Price." He is a consultative selling expert committed to helping individuals and companies identify better prospects and close more profitable sales. To get a free weekly sales tip, visit www.TheSalesHunter.com. Read the first chapter of his instant-classic "High-Profit Selling" here.
19 Ways To Lose Top-Performing Salespeople
by Brian Jeffrey
Relax, this is not a tutorial on how to lose salespeople, good or bad. It's hard enough finding top-performing salespeople in the first place, so why would anyone want to lose them? The answer, of course, is that you don't, but there are a number of things that you do or don't do that will drive your top performers out the door.
What about your other salespeople — the less-than-top performers? They're likely to stay put simply because they're not top performers and finding another job isn't as easy.
Good salespeople move around because they can. The less-than-good salespeople hang tight because it's prudent to do so. The not-so-good salespeople take root and you have to dig them out before they'll migrate.
The Top 19 Retention Sins
In their eBook "Sales Recruiting 2.0 — How to Find Top-Performing Sales People, Fast," Eliot Burdett and Brent Thompson of Peak Sales Recruiting Inc have identified the most common mistakes, issues, and omissions that cause peak performers to leave an organization. You might consider buying a copy. It's a good read if you're considering using a recruiting professional.
As you read down through this list of 19 retention sins, check off those that your company might be guilty of so that you can plug the holes in your sales dike.
Frequent changes to the commission plan.
A reduction in commission rate if the salesperson produces big sales and big commissions.
Penalizing the sales team for post sales delivery.
Refusal to compensate the salesperson on certain types of sales that generate desirable profits for the company.
Failure to support them with proactive product management, strong product development, professional delivery and effective support.
Investing nothing in marketing and brand recognition.
Making them spend a lot of time completing reports and doing other non-selling activities.
Hiring sub-par salespeople and keeping poor performers on board.
Stepping in to take over accounts which salespeople have worked hard to acquire and develop.
Focusing on hours and activities instead of results.
Forgetting to be a cheerleader to get everyone over their daily rejections.
Requiring salespeople to make cheap travel arrangements which waste valuable selling time.
Not providing best practices and resources such as objection handling scripts and reference material.
Asking the salespeople to lie to customers and prospects in order to close more business.
Avoiding coaching and constructively helping the salespeople to be bigger producers.
Refusing to leave your office and visit customers.
Paying commissions late.
Taking credit for closing deals the salesperson closed.
Implying that selling is the easy part of the company's success.
Building the Best Environment
While the prime intention of this list is to help you uncover potential problems within your organization, it can have a more important use as well. It can be used as a checklist to build an internal environment that not only keeps your top salespeople happy but gets others to aspire to join that lofty rank.
Building the Best Team
Just like having a great stadium to play in doesn't guarantee a winning team, creating an open and supportive environment for your salespeople, while important, is only one part of the equation. The players are the key.
Sports teams are constantly assessing their players and fine-tuning their line-up. Unfortunately for us, we can't send a poor-performing salesperson off to the farm team for some seasoning, or draft a top performer from one of our competitors as they do in hockey. We have to make do with what we've got.
This means that we've always got to be on the lookout for "free agents," as well as take care in our hiring process to ensure we're strengthening our line-up.
Because of the nature of my business, I agree with Burdett's and Thompson's sin #8. Hiring sub-par salespeople and keeping poor performers on board is not how you build a strong, enduring sales team.
You might consider benchmarking your existing team to see who's who and what's what. Benchmarking can help you find the holes that need plugging or the people that may need culling on your way to the best team you can build.
If you want to know more about benchmarking, let me know and I'll send you a copy of our white paper on the topic.
The Bottom Line
Build an environment where top performers can thrive and then find top performers to put into that environment. Help your good salespeople become better and assist the bottom 10 percent to find a position more in keeping with their talents.
About The Author:
Brian Jeffrey has over 40 years experience in sales, sales management, sales training, and business consulting. He is the co-founder and past president of SalesForce Training & Consulting Inc, as well as Salesforce Assessments Ltd. Having sold both those companies, his focus is now on sharing his over 40 years of sales and sales management experience with companies and individuals who want help managing their sales.
In addition to running his own sales management consulting businesses, Brian is the author of 18 ebooks and over 100 articles on sales and sales management. He is also the author of the "5-Minute Sales Trainer" and "The SalesWizard's Secrets of Sales Management" (now out of print).
Visit his website at: http://www.quintarra.com/
Coaching Employees to Meet Deadlines
by Paul Cherry

Employees NOT meeting deadlines is a major factor in low team performance. As a leadership coach, exasperated managers and supervisors often ask me for effective ways to improve employees' time management skills.

Listen to the following scenario…

John, a project coordinator, was called into the office of his supervisor Anne. He could tell, immediately, by the look on Anne's face that she was struggling to keep her composure in check: "John, I thought we'd agreed three weeks ago to get this project finished by now. Now I'm hearing it's nowhere near ready. What gives?"

Flustered, John said, "I'm doing the best I can, and I'll get to it as soon as possible."

When people make a habit of postponing certain tasks, putting off items on their to-do list, and failing to meet agreed-upon objectives, it's maddening for the superiors counting on them. Even the most understanding managers can find themselves in badgering mode as deadlines are missed and desperation grows: "You told me you'd get this project to me two weeks ago. I've asked for it several times now, and I still haven't seen it. I don't understand. Why isn't it done yet?"

I don't like to use the word "distrust," but when someone consistently fails to meet agreed-upon deadlines or goals, it's easy to lose faith in that person. How do you deal with someone like John? What if you ask questions and get whiny, vague responses? Actually, getting negative or ambiguous feedback can be a blessing in disguise, giving you a heads-up that something isn't right and you must view this information in a clearer light.

Coaching Tip: Get to the origin of the missed deadlines

Sometimes managers say, "What do I need to do to help you get this done?" We think we're being a resource for the employee, but we're actually undercutting his confidence. He ends up feeling scolded. Or worse, he becomes aloof, or skittish, and/or avoids you, knowing he's annoyed you and he's now under your watchful eye to do the job, pronto. Ironically, we think we've created a sense of urgency for this individual, when instead we're taking ownership of the problem — not a good strategy when we already have enough on our plates!
Rarely do managers want to go down that nagging path where they constantly buttonhole employees with, "What's going on? Why isn't this ready?" Despite their best intentions to stay cool and professional, their frustration inevitably reveals itself in their words or tone of voice.

Stop missed deadlines from the start — Create a game plan.

Here's Anne's proactive approach: "Hey, John, it sounds to me like you've been incredibly busy. As you know from our conversation last week, we were talking about getting this project completed next Friday, one week from today. So tell me, how are you progressing so far? Walk me through the steps you've implemented since we spoke last week." Listen very closely to John to find out what he's initiated so far and what he hasn't, as well as any other potential issues that can creep up.

Suppose John says…

"Well, things have been really busy around here, but I plan on getting the project done as soon as I can." Or perhaps: "Well, it's gonna be late, probably a week later than I would like."
Whoa! There goes that red flag!

Three ways to deal with missed deadlines

As John's boss, Anne has three choices:
She can say, "Okay, I can live with that." But probably not!

She can negotiate with John and agree upon a more realistic timeframe if needed. Determine if there's wiggle room to give John a day or two, versus his usual week or more of being late.

She can recognize the sense of urgency here. After all, John and Anne had already agreed that the project was supposed to be finished by next Friday. This could easily become Anne's problem instead of John's, but since this is really John's issue, Anne needs to keep the onus on him. She may tell John, "I'm sorry, but I'm afraid going beyond next Friday's deadline is unacceptable," adding an open-ended question that will encourage John to specify dates and provide feedback: "How can we ensure that we'll stay within our agreed-upon timeline?"

Coaching Tip: Getting past lame excuses for missed deadlines

Now that he has a fire lit under him, John can respond, "Okay, I can realistically get this done by next Friday."

Anne needs to stay in charge and confirm John's action plan. "Great! What specific steps will you need to take between now and next Friday to accomplish this?"

Like many of us, John has his quirks. Maybe he's a procrastinator. Maybe he has multiple priorities that require him to multitask, and his plate is already full. The bottom line: when next Friday rolls around, will John's project be ready? When Anne follows up with John, it'll be unacceptable if he responds, "Oh, gosh, I'm going as fast as I can. This came up, that came up, and I just couldn't get to it…I'll get it to you next Monday." He might as well be saying "whah whah whah," like the adults in the animated Peanuts cartoons.

John might blame his slow progress on lack of time. But pointing to time constraints can be a Band-Aid approach. Sometimes when people say, "I don't have the time," when you read between the lines, you may find they're really saying, "I can't do it…I don't know how…I feel too vulnerable…I feel too insecure." Time management issues often result from someone feeling like they're outside their comfort zone. Their excuses can come across as whining or blowing smoke, which doesn't help the employee or employer.

Proactive Questions: Getting employees to take ownership for their projects and tasks

The best way to manage John is to ask him proactive questions now, not asking him reactive questions later:

REACTIVE QUESTION:
"Why isn't it ready? What have you been doing?"
This approach puts people on the defensive; bad move! You'll cross that fine line between encouragement and nagging.

PROACTIVE QUESTION:
"John, walk me through the steps you'll take to finish this project. Do you see any potential obstacles that could get in the way? (If so:) What are they? What will you do to ensure you'll have ample time to finish the project by our deadline?"

This approach drives John to articulate the physical actions and resources he'll use, what potential obstacles he may encounter, and how he'll overcome them. Be good-natured about it: "Hey, John, how are things progressing since we talked Wednesday?"

Following Through

Managers may say, "Yeah, those are good questions, but do I really want the minutiae?" Yes, you do! When you deal with someone like John, you'll want to know his level of commitment, willingness, confidence, and ability to follow through. If he can't walk you through all the steps, that should send a red flag flying.

When you have encounters with such people, you want them to have a complete understanding of the steps and outcome desired. When they're able to articulate the action steps, this also cuts back on the amount of hand-holding required.
When you get them to summarize and you hear the answers you're looking for, insist that they put it in writing, including a couple of brief, informal progress report e-mails over the course of the week to let you know where they are in the process, such as: "What will you do between now and this Friday to make your deadline?"

As a manager, take the words "Here's what you should/need to do" out of your vocabulary. The aforementioned direct report should articulate that. That's where the ownership is, and it'll reinforce your employees' determination to stay on track.


Additional Questions to Coach Employees from Missing Deadlines
What are your goals and timeline for this project?
Take me through your action steps to get this project done by x
How are you progressing with the project so far?
Bring me up to speed where you are now compared to a week ago. What's working?… What's not?… What are you going to do about it?
Explain to me what your plans are between now and next Monday.
Great, so that I'm kept in the loop, send me an email by the end of today summarizing your progress and next steps. Does that sound fair?
About the Author
Paul Cherry is President of the sales and leadership firm Performance Based Results and the author of QUESTIONS THAT SELL, published by AMACOM Books.  Paul can be reached at 302-478-4443 or e-mailed at cherry@pbresults.com. When you subscribe to our quarterly newsletter at http://www.pbresults.com, download our free white paper, "Top Questions that Sell," based on PBR's latest research on what salespeople need to ask in order to up-sell, cross-sell and win more customers!